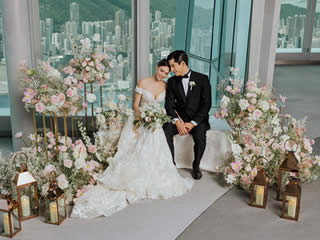 An experience above all else at sky100. Surround yourself and guests with the most spectacular floor-to-ceiling, ultra-panoramic view of Hong Kong skyline for indulging in a daytime ceremony, a sunset cocktail party or an evening banquet.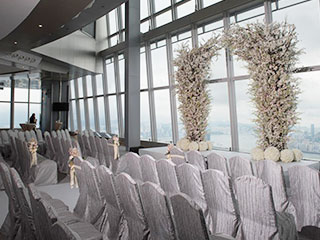 The spacious 16,000 square feet of space offers a blank canvas for your imagination, providing unmatched possibilities for wedding themes and décor choices.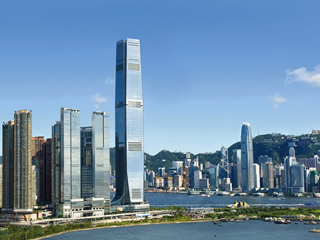 Lofty landmark with convenient transportation will bring you all heartfelt blessings from your families and guests.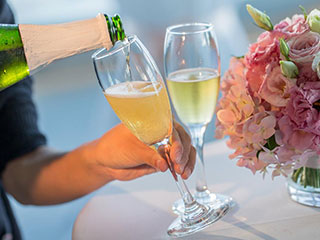 Caring Wedding Services Team
A blissful wedding like no other awaits at sky100. Our consultants will assist in planning the most memorable of your big day – attentive to your unique wedding down to the finest details.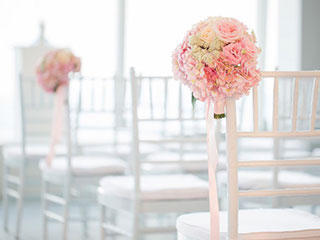 Selected Wedding Partners
Your wedding at sky100 is a very special occasion. Our preferred wedding partners can assist with every detail, from a sumptuous selection of caterings, ornate floral arrangements to stylish photography, ensuring a moment worth remembering for a lifetime.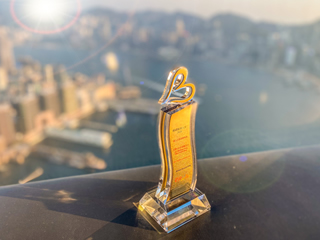 Award Winning Wedding Venue
sky100 is voted the "Best Wedding Ceremony Venue" in ESD Life Bridal Award 2020 through public voting. This accolade once again testify sky100 as the preferred venue with impeccable skyline, providing the most natural and unique backdrop for any dream wedding.
sky100 was our 'love at first sight' venue. We believe sky100 will bring good luck to our marriage for 100 years.
Paula & Paul
The breathtaking views of the Hong Kong skyline provided an excellent backdrop for our wedding. More, with the flexibility of F&B selection allowed us to tailor make an ideal banquet menu with our preferred caterer. sky100 is an unique event venue which perfectly fits for our requests.
Clara & Kant
Our families and VIP guests gave us a thumb-up for choosing sky100 to celebrate our most important moment in our life. I strongly believe that they recognized not only the prestigious venue and excellent views, but also your best services being considerate of our and their needs.
Cynthia & Simon